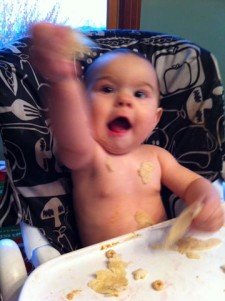 Two weeks ago Kathy and I fixed Thanksgiving dinner for our daughter Claire, son-in-law David, and adorable 11-month-old granddaughter, Little Kathy, in Virginia. How is it possible that we got the cutest, sweetest, smartest grandchild on earth!?
I actually asked this of the continuing studies students in my memoir-writing class, grossly abusing my teacher's mantle. Said with a wink, it was, sort of. They laughed, most of them grandparents themselves and getting the joke, even a woman with great-grandchildren.
Over the years, my Mom's habit of slinging a quick roux of butter and flour over the bird has devolved into my practice. On Mom's turkeys, little dough blisters erupted here and there on the golden skin. My logic that led to my practice is that roux is a sealant, keeping the meat moist. Thus my rouxing too often and too well. At Claire and David's, before it was over I'd used 1.5 pounds of butter, with flour as needed, and seasoned with salt, pepper, and sage. I basted every thirty minutes, the crust deepening with each application. Our turkey resembled a crunchy blob. The drippings, plus leftover roux, make killer gravy. Literally. You can feel the arteries in your temples seize.
So baby's first Thanksgiving was a success.